After opening our doors in February of this year as the luxury boutique spa addon to Hilton Head Health, we have been recognized by our spa clients and embraced by the greater spa community for our committment to providing a unique and re-energizing spa experience! It started with recognition as a Top 100 Spa in America, then our American Spa magazine cover and inside spread, and now December has brought more honors.
Les Nouvelles Esthétiques & Spa magazine named The Indigo as their Spa of the Month for December and now we are pleased to announce we recieved two American Spa Professional's Choice Awards.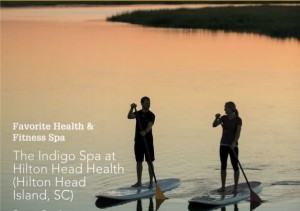 We were voted the Favorite Health & Fitness Spa by American Spa Professional's Choice Awards and their Favorite New U.S. Spa. These are such amazing honors; it truly feels like Christmas is already here.